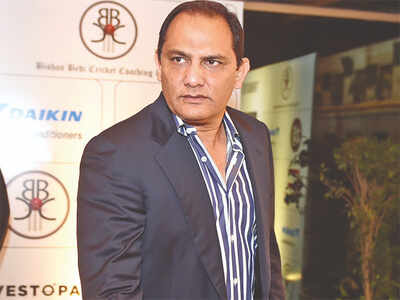 Mohammad Azharuddin (TOI Photo)
MUMBAI: Former India captain Mohammad Azharuddin has provided a Rs 25,000 financial aid to Prashant Singh, a 20-year-old fast bowler from Bihar, who has still not been paid his match fees due to him for turning out for the Bihar Under-23 team in the 2019-20 season in two tournaments.
"I don't like showing off. I don't want to embarrass that boy and most importantly his family. It's what has been taught by my parents and grandfather," responded Azharuddin when TOI contacted him on this issue. He is currently the president of the Hyderabad Cricket Association (HCA).
"I'm thankful to both Azhar sir and Aditya Verma, who told him about my plight, for helping me out in this hour, from the bottom of my heart. I still can't believe that such a big cricketer has helped me. I've just met Azhar sir once, when he came as a chief guest for a tournament, organised by Verma, two-three years back, but I've never spoken to him," Prashant told TOI from Chhapra in Bihar.
Apart from Azharuddin, the youngster also has help coming from former Indian wicketkeeper Surinder Khanna in Delhi. "After Verma told me about him, I messaged my friends and acquaintances about the need to help him. We will all pool in some money to support him, and all such needy persons connected to cricket. I had seen this boy in Muzaffarpur four-five months back in a tournament, and was impressed with his talent," Khanna told this paper.
With the pandemic raging across the country, Prashant was worried on the financial front, as his elder brother caught covid and his mother was unwell too. "My brother has recovered now, but you know how expensive it would have been had I been forced to take him to the hospital," he said.
"I played seven four-day games and four one-day games for Bihar in the 2019-20 season, for which the BCCI is yet to give me match fees, which amounts to Rs 8 lakhs. It's not a small amount. I'm not the only player from Bihar who has not been paid their dues. Many cricketers who played for the Bihar senior and under-23 teams have not been paid their dues, and are in a bigger financial strife than me," Prashant lamented. Under-23 players are paid Rs 70,000 for a four-day game and Rs 17,500 for a one-day game.
"When I asked the Bihar Cricket Association (BCA) officials about it, they said it was a voucher issue. However, it shouldn't have taken this long. People say that my career could be under threat if I ask for this money, but this fight is about my rights. I am yet to receive payment for having taken part in the Bihar Cricket League (BCL) too. I played for Bijapur Bulls and Rs 50,000 is due to me," he said.
"All the players have been paid their match fee for the 2019-20 season by the BCCI. In Prashant's case, there was some technical issue with his voucher, but he will get his payment soon. We had sent all the invoices to the BCCI, but we were told that there was an error in them. So we have sent all the invoices again. Please note that a lot of our staff at BCA was hit by covid recently, which slowed down things a bit administratively, as people couldn't go to the BCA office," said Rakesh Tiwary.
FacebookTwitterLinkedinEMail