NEW DELHI: Many of the matches in IPL 2021 so far have been low-scoring affairs. Bowlers have superbly used the slow pitches to their advantage and the fielders have provided them with excellent support, grabbing onto those half-chances to lift their teams up.
From mid-air screamers to sensational running catches, some of the fielding efforts this season have been jaw-dropping. And we are not even at the halfway mark of the tournament.
From youngsters pulling off high-flyers to the old horses showing sharp reflexes, the bar has been set very high once again as far as the level of catching in the IPL is concerned.
TimesofIndia.com here takes a look at the 5 of the best catches of the season so far:
Ravi Bishnoi
(Punjab Kings vs KKR)
Catch of the Tournament so far … https://t.co/Pnt7YbbtPN

— AlreadyGotBanned 😄 (@KirketVideoss) 1619454180000
The tag of 'catch of the tournament' so far has to go to young Punjab Kings player Ravi Bishnoi. The 20 year old pulled off an absolute screamer against Kolkata Knight Riders in Match 21 of IPL 2021 in Ahmedabad. Bishnoi plucked a stunner out of nowhere to dismiss Sunil Narine off Arshdeep Singh's bowling. Bishnoi produced a sensational effort in the third over of KKR's chase when Narine took on Arshdeep to try and deposit him over the mid-wicket fence. As the ball went high up after Narine mistimed his shot, Bishnoi, standing at deep square-leg ran close to 30 metres to cow-corner and dived to grab the ball with both hands outstretched mid-air and then landed with ease to complete a remarkable catch. The effort had the commentators on their feet and was equally appreciated by the fans on social media. Kevin Pietersen in fact called the catch "the catch of every IPL tournament".
Chetan Sakariya (Rajasthan Royals vs Punjab Kings)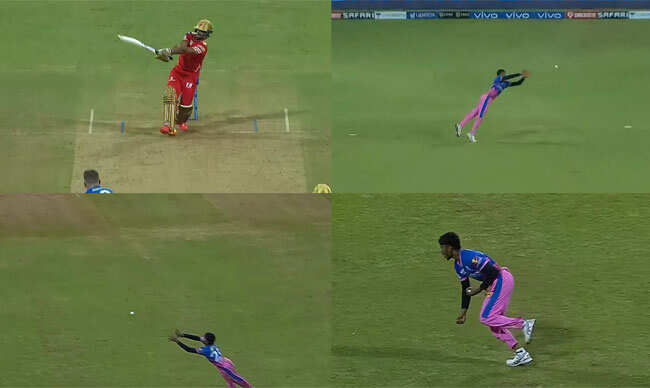 Chetan Sakariya – (Photo credit: Twitter photo)
Young Chetan Sakariya, playing his first IPL, has been very impressive with his left arm medium pace. But he truly set the tournament on fire thanks to his superb catch in Match 4 against the Punjab Kings. The 22-year-old 'smiling assassin' in his debut game for the Rajasthan Royals plucked an absolute ripper to dismiss Nicholas Pooran off Chris Morris. The stunning effort from Sakariya was in the 18th over when Pooran tried to pull a short ball from Morris. The ball travelled quickly off Pooran's bat but Sakariya, standing at short fine-leg anticipated the catch, leap-frogged to his left and caught it while being parallel to the ground. Sakariya then landed comfortably, completing the difficult catch without much fuss. Rajasthan, however, eventually went on to lose that high-scoring game, but Sakariya's effort went on to become a big talking point in that clash.
Ravindra Jadeja (Chennai Super Kings vs Punjab Kings)
ICYMI: Catching excellence ft. @imjadeja An exceptional effort to send Chris Gayle back. #PBKSvCSK #VIVOIPL🔗… https://t.co/sHrKAiQVEw

— IndianPremierLeague (@IPL) 1618586298000
Any list of catches in modern-day cricket history would be incomplete without Ravindra Jadeja on it. A live wire on the field, Jadeja has been absolutely phenomenal in all the three departments of the game in IPL 2021. Runs with the bat, wickets, catches and run outs, it's all been part of Jadeja's portfolio this IPL. Second on the list of most catches (7) this season, Jadeja plucked a superb catch against Punjab Kings in Match 8 in Mumbai. After Chris Galye failed to read a knuckle-ball from Deepak Chahar in the fifth over of the PK innings, the 'universe boss' mistimed and lofted the ball in the air. Jadeja, standing at cover, anticipated it beautifully and ran and then dived towards his right to complete the stunner safely. A difficult chance looked like child's play as Jadeja was surrounded by his teammates who congratulated him for taking another superb catch.
Sanju Samson (Rajasthan Royals vs Delhi Capitals)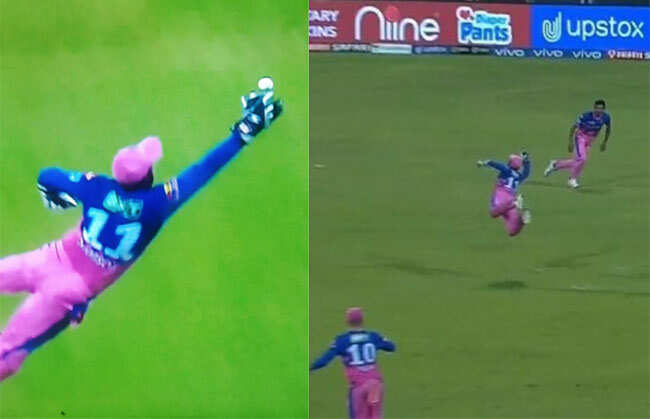 Sanju Samson – (Photo credit: Twitter photo)
Rajasthan Royals' batting might have led them down this season but their fielding has been the one thing that has stood out for them so far. As a fielding unit, the Royals have been at the top of their game, converting the half-chances superbly apart from taking the regular catches and saving runs. In Match 7, skipper Sanju Samson produced a stunning effort behind the stumps to put Delhi Capitals in a spot of bother early on. As Shikhar Dhawan moved across against Jaydev Unadkat and tried to scoop him past the wicket-keeper, Samson pulled off a full-stretched dive and caught a rising ball one-handed to end Dhawan's innings on 9. From commentators to fans on social media, everyone lauded the excellent effort by the Royals' skipper.
Rahul Tripathi (Kolkata Knight Riders vs RCB)
WATCH – Catch marvel, ft. Rahul TripathiEyes on the ball, running backwards and a fine leaping effort to dismiss… https://t.co/IihqI0oKgS

— IndianPremierLeague (@IPL) 1618742035000
Rahul Tripathi too has been a live wire on the field for the Kolkata Knight Riders. From taking absolute stunners to saving runs for his team, the 30-year-old, who always seems to have a smile on his face, has been on top of his game in the 30-yard circle and also at the fence. Rahul, in the match against Royal Challengers Bangalore took a brilliant catch to dismiss their skipper Virat Kohli early in the innings. As Kohli tried to take advantage of the field restriction in the Powerplay, the RCB skipper went after Varun Chakravarthy and in an attempt to go straight down the ground, lofted it over covers. The top edge from Kohli kept the ball in the air for a sufficient amount of time for Rahul to run backwards from point — close to 20 yards — and then complete the catch with a well timed dive.