NEW DELHI: Several countries around the world are battling a new wave of infections fueled by the highly infectious Delta variant, which has now become the dominant strain worldwide.
The fresh surge in cases in countries like Indonesia, UK, Israel, Australia — all fueled by the highly infectious variant that was found in India last year — have dampened hopes for a return to normal life soon.
The
World Health Organization
reported cases rose 10% last week to nearly 3 million, with the highest numbers recorded in Brazil, India, Indonesia and Britain.
The resurgence in cases has promoted WHO chief Tedros Adhanom Ghebreyesus to warn the world about the "early stages" of a third Covid wave.
"Unfortunately…we are now in the early stages of a third wave", he said earlier this week.
Several nations are witnessing a surge in cases triggered primarily by the Delta strain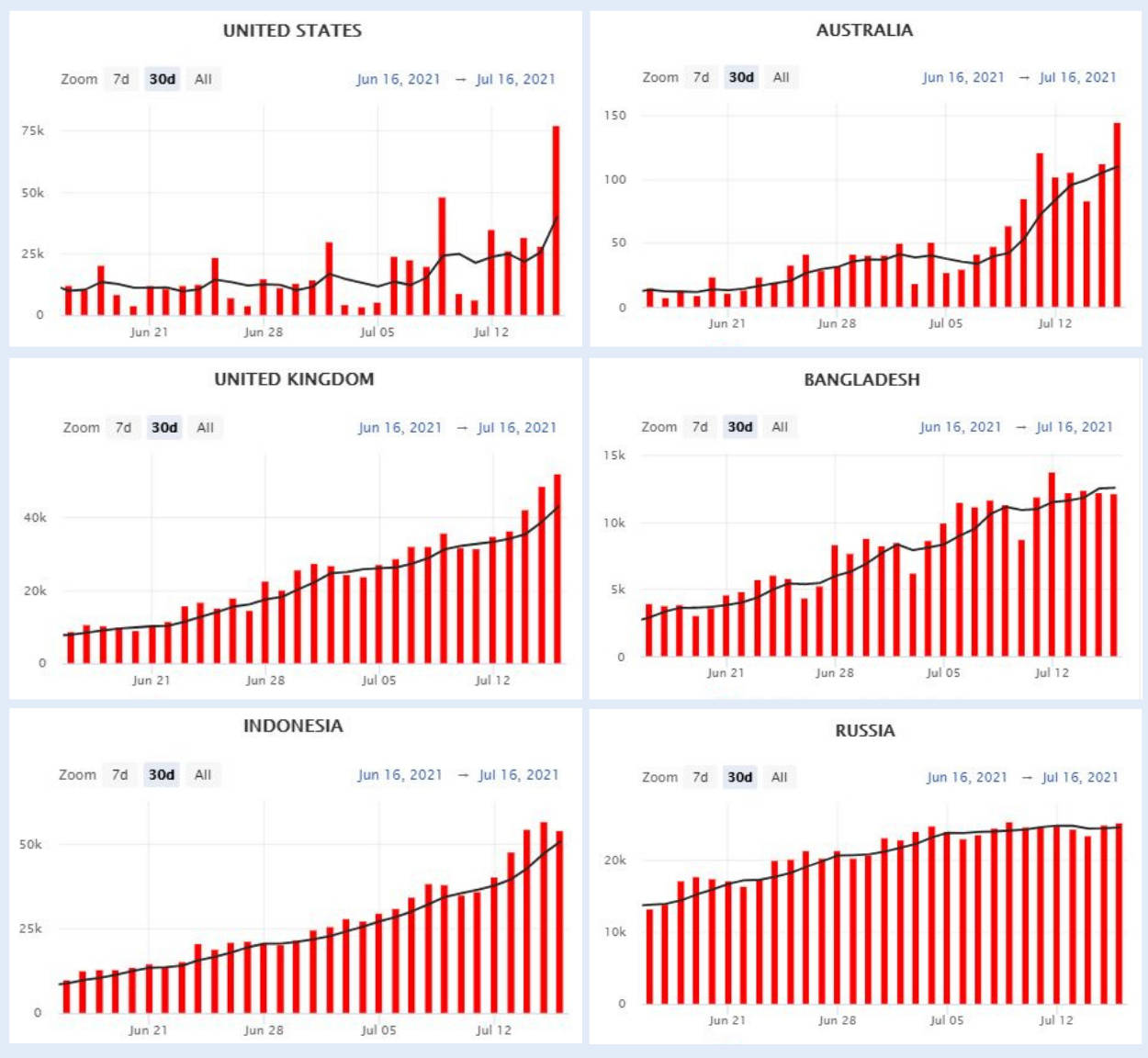 Indonesia now Covid epicenter
The highly infectious Delta variant is fast ripping across the archipelago, leading to a record surge in new infections.
Cases crossed the 50,000-mark in Indonesia earlier this week, a whopping 120% rise from what was reported at the start of the month.
Skyrocketing infections and deaths have also hammered hospitals in the Southeast Asian country of nearly 270 million, which is overtaking India as Asia's coronavirus epicentre.
The cases shot up after millions travelled across the country at the end of the holy fasting month of Ramadan in May.
A cautious reopening
The biggest impact of the Delta variant is perhaps being in the UK, which is hoping to lift legal restrictions on its public from July 14.
Cases dominated by the variant has already triggered a fourth wave in the country with daily cases rising to 48,641 on July 15.
The government estimates that UK could see daily infections up to 1 lakh after full-scale reopening.
The prevalence of Covid-19 infections in England is also estimated to have risen to 1 in 95 people in the week to July 10, Britain's Office for National Statistics (ONS) said on Friday, up sharply from the 1 in 160 recorded the week before.
The government's chief medical adviser Chris Whitty has warned that England's coronavirus crisis could return again surprisingly quickly as the country is not yet out of the woods yet.
Sharp turnaround
Australia is also under increasing pressure to get on top of a fast-growing Delta variant Covid-19 outbreak that poses the country's biggest threat in months.
The outbreak has highlighted what critics say were major flaws in Australia's pandemic response – delays in ordering vaccines, flipflopping guidance that led to widespread vaccine hesitancy, too-soft lockdowns and lax quarantine at the international border.
Officials reported 103 new cases on Friday, the bulk in Sydney with the remainder in Melbourne, taking total cases since the current outbreak began a month ago to above 1,000. Two people have died, 75 people are hospitalised with 18 in intensive care.
Not a huge number on a world scale, it was a sharp turnaround for a country that had experienced only small, localised flare-ups for several months.
From Friday, 40% of the country's 25 million people – across Sydney, the outbreak epicentre, and the state of Victoria – were living under some form of lockdown conditions.
Curbs to return in Israel
Meanwhile, Israel is planning tougher health restrictions to combat rising cases as the Delta variant spreads rapidly.
If the new plans are approved by Parliament, only those vaccinated or who have recovered from coronavirus will be allowed to take part in indoor events of more than 100 people. They will also have to wear masks, except for eating and drinking.
Israel became a pioneer in Covid-19 inoculations after it obtained millions of doses from Pfizer in exchange for sharing extensive health data on their impact.
Case numbers dropped dramatically, and in early June Israel eased many restrictions.
But soon after, the Delta variant barrelled through the nation leading to record surge in daily infections.
Global deaths on the rise
Amid the Delta-fuelled surge, the death toll in several countries have also risen drastically.
The WHO reported that global deaths climbed last week after nine straight weeks of decline. It recorded more than 55,000 lives lost, a 3% increase from the week before.
In hard-hit Argentina, the toll surpassed 100,000. Daily coronavirus deaths in Russia hit record highs this week. In Belgium, Covid-19 infections, driven by the Delta variant among the young, have almost doubled over the past week.
In Myanmar, crematoriums are working morning to night. In Indonesia, which recorded almost 1,000 deaths and over 54,000 new cases Wednesday, up from around 8,000 cases per day a month ago, people near Jakarta are pitching in to help gravediggers keep up.
(With inputs from agencies)