CLAIM
Photo of a swanky cable-stayed bridge is doing the rounds on social media with the insinuation that it was inaugurated by
Narendra Modi
during his ongoing tenure as Prime Minister (PM) of India.
यह कोई अमेरीका फ़्रांस लन्दन का ब्रीज नही है यह बांद्रा के मुंबई का ब्रीज है, वाह मोदी जी https://t.co/JaImibIbSO

— 'सत्य सनातन' (@REAL___HINDUVT) 1626413764000
"This is not a bridge in America, France or London. This is a bridge located in Mumbai's Bandra. Wow Modi ji," reads a loose translation of the text in Hindi accompanying the photo.
यह कोई अमेरीका फ़्रांस लन्दन का ब्रीज नही है यह बांद्रा के मुंबई का ब्रीज है, वाह मोदी जी #ModiHaiTohMumkinHai https://t.co/sfNgohNZUR

— चाचा चौधरी (@CHOUDHARYG_RJ18) 1626443767000
TRUTH
The photo is an aerial shot of the iconic Bandra-Worli sea link in Mumbai. It is officially named Rajiv Gandhi sea link, after the former Indian PM and Congress leader.
It was thrown open to public use in 2010 under the then UPA government, with Manmohan Singh as India's PM.
VERIFICATION AND METHODOLOGY
Using reverse-image search, we established the photo is of Mumbai's Bandra-Worli sea link. It connects western suburbs of Mumbai with South Mumbai.
Several credible social media accounts and websites carried the photo identifying it as the Bandra-Worli sea link.
From Bandra to Worli Sea link 📌 #Mumbai #Maharashtra #India #TheHimalayanClub #Engineering #sea #beauty… https://t.co/Vx1ERaDN7y

— The Himalyan Club (@HimalyanClub) 1625225084000
Digging further into the history of the bridge, we found that its construction began in 2000 after its foundation was laid by Shiv Sena founder Late Balasaheb Thackeray in 1999.
The bridge was inaugurated by Congress chief Sonia Gandhi on June 30, 2009.
A picture taken during inauguration ceremony was found on the website of Getty Images The sea link was opened for public use in March, 2010.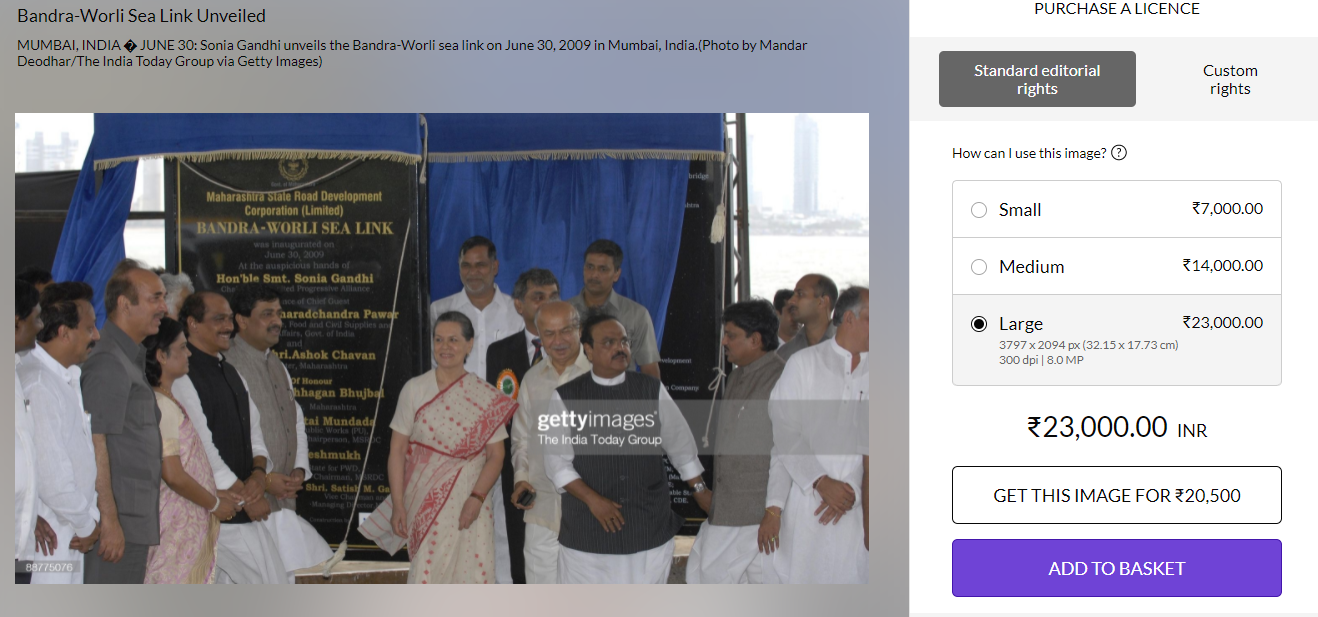 Clearly, PM Modi had nothing to do with its construction or inauguration. He is being falsely credited for a sea link that became operational under the UPA government.
VERDICT
Times Fact Check has found that photo of the Bandra-Worli sea link is being circulated falsely crediting PM Modi for its construction.