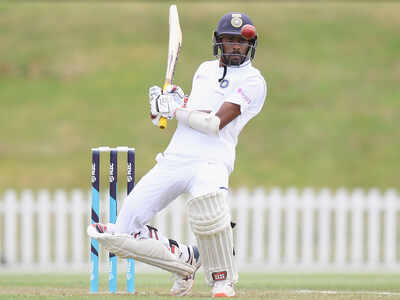 Abhimanyu Easwaran (Getty Images)
KOLKATA: Abhimanyu Easwaran's days start quite early nowadays. After finishing his regular drills, the opener hits the nets at his father's academy in Dehradun around 7am.
"I am just trying to stimulate the conditions that I expect to get in England," Easwaran, who has been selected as a standby with the Indian squad for the upcoming England series, told TOI.
"There is always some moisture in England and when you bat, the new ball actually does a lot more than in India. I am starting early just to prepare for that and putting in six to seven hours of practice each day," he informed.
Easwaran was a standby earlier this year too during the home Test series against England. But this time he will get an opportunity to be with the side for three-and-half-months.
"I am looking to gain as much as possible. Practising with the top players of the world will help me learn how to prepare for games. I will also get to face quality bowlers at the nets, which will help me grow as a cricketer," he feels.
With a whole lot of young players like Mayank Agarwal, Subhman Gill, Prithvi Shaw and Easwaran himself knocking on the door, the fight to earn an India berth has become quite difficult. But the Bengal opener is enjoying the competition.
"It's great to have so many options. A strong team is known by its bench strength," he said. "I am not competing with anybody. I am just preparing myself and waiting for my chance," the 25-year-old said.
The Indian openers named for the tour do not have much experience of playing Test cricket in England. While Agarwal and Gill are yet to play a Test match there, Rohit Sharma has featured in just one way back in 2014. KL Rahul has been the only one to have played five Tests in England.
However, Easwaran feels all the players have the quality to succeed. "I don't think that will be a factor," he said.
"Rohit has handled the conditions there while playing plenty of white ball cricket. And don't forget he had hit five centuries in the World Cup there," Easwaran pointed out. About Gill, Mayank and himself, Easwaran said, "we have all played 'A' series matches there and hence have good experience and exposure to English conditions."
The boy, who moved to Bengal at the age of 10 to play cricket, has risen through the ranks representing Bengal in eight domestic seasons and playing 14 matches for India 'A' scoring 861 runs, which includes two centuries and 13 fifties. But he will land up in England with no experience of playing red ball cricket due to the cancellation of Ranji Trophy.
The opener who hit 861 runs in the 2018-19 Ranji season, managed just 258 runs from 17 innings last season.
"You cannot do much about missing the Ranji Trophy this time," he said. "Every cricketer goes through a rough patch and not getting runs one season does not make one a bad player," he said.
Easwaran realises that he stands at an important crossroads from where he can make the big league, but can also slip out of the radar. "It's important to stay in the present. I don't think about selection as that's not under my control. I focus on my game and try to improve every day," he explained.
FacebookTwitterLinkedinEMail