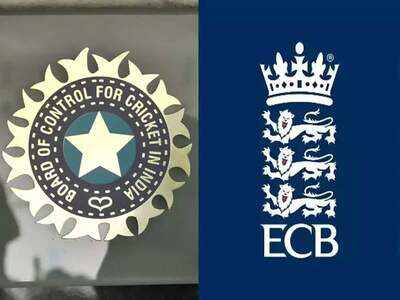 NEW DELHI: As speculation of altering India's itinerary for five-Test tour in England in lieu of accommodating the unfinished IPL gathered steam on Thursday, the England and Wales Cricket Board (ECB) has categorically denied any such formal development yet.
Reports in the English media on Thursday suggested that the Indian cricket board (BCCI) has requested the ECB to contemplate finishing the Test series earlier so that they could get a wider window to complete the IPL before the ICC T20 World Cup in October-November. The fifth Test is scheduled to be played in Manchester from September 10.
"We talk to the BCCI on a regular basis about a wide range of issues especially as we address the challenges of Covid-19, but have had no official request to change dates and are continuing to plan for the five Test series as is scheduled," an ECB spokesperson told TOI late on Thursday night.
However, TOI understands that the BCCI is looking for at least a three-week window to complete the remaining 31 matches of the IPL which was suspended abruptly in May due to the pandemic.
At the moment, UAE looks to be the safer option for BCCI to host the IPL. "There are a lot of factors that need to be considered. The ECB has suffered massive losses due to the pandemic last year. They have the inaugural 'The Hundred' in July-August this year. BCCI has informally checked with ECB if any adjustments could be made especially when four counties have offered to host the IPL later in the summer," a source close to the development told TOI.
FacebookTwitterLinkedinEMail