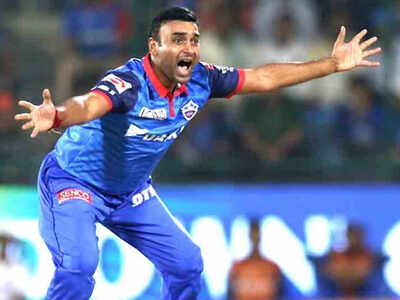 Amit Mishra (BCCI/IPL Photo)
BENGALURU: While BCCI is working out the logistics for the return of foreigners, the responsibility of returning the Indian players home rests with the franchises.
By Tuesday night many had already reached home, while others will have to wait for a day or two more. Sunrisers Hyderabad players who live close to Delhi, the team's current base, chose to drive back. The rest of the players and staff opted for the air route and will undergo an RT-PCR test on Wednesday morning.
Depending on the outcome, they will begin to exit the bio bubble by late evening. A couple of the Rajasthan Royals players and staff boarded commercial flights on Tuesday evening.
Delhi Capitals, who are currently in Ahmedabad and have had one player, Amit Mishra, test positive, are working out logistics and are likely to travel by Thursday.
RCB, currently in Delhi, are expected to start dispersing on Wednesday. Chennai Super Kings too will get the go-ahead to fly after they return a negative report on Wednesday.
Most of the match officials have either reached home or are leaving on Wednesday morning. With four teams each in Ahmedabad and New Delhi, franchises were exploring the possibility of players from common cities travelling together.
A player who has already reached home said, "Once the IPL was called off I couldn't wait to head back home. I took all the necessary precautions, including safety gear while travelling. I'll isolate myself at home for a week." Others find travelling in commercial flights risky, especially since their IPL entourage includes wives and children. "I prefer to wait for the franchise to guide us. It will be reassuring if we can fly together on a charter flight," said an international player.
FacebookTwitterLinkedinEMail