Last year, on April 29, 2020, news of Irrfan's Khan's unexpected demise came as a rude shock to the fraternity and fans. The actor who had delivered several top-notch performances in his career was known for his authentic acting, impeccable dialogue delivery in rich content-driven films he chose to work in. '
Karwaan
' was one such film where Irrfan's performance, along with the incredible storyline, earned him rave reviews. On his death anniversary today,
Akarsh Khurana
, who made his Bollywood debut as a director with the film, speaks exclusively with ETimes on his experience of working with the actor.
In an article about Irrfan, you shared that he came up to you and said he wants to play Shaukat. Was the role planned with him in mind?
Actually, no. When we got a meeting with him, we knew that he could play both parts; he would be great as Avinash or Shaukat. He was a fantastic actor, and when we went to narrate the story to him, we thought he would want to play Avinash, who was the main character. At the end of the day, it was Avinash's journey. Shaukat was not really a supporting character, but one of the characters who binds the story together. Our creative producer, who was very instrumental in getting 'Karwaan' made, had suggested we read out the entire film to him instead of giving him a particular part's narration. It was a good thing to let him react to the story rather than a character. Irrfan really enjoyed the narration. And at the end of it, he said, "You know that it's a lovely film. I'm very surprised at how mature it is. But, you know, if I have a choice, I would like to play Shaukat." It was so great for someone to say that. He found the character very interesting. We were thrilled because we knew what Irrfan would be able to do with Shaukat would be fantastic. I remember, we got out of his room and did a happy dance over there. We knew even back then that Irrfan doing this would be something magical, and we had no idea that we could get this lucky.

How does it feel to remember your first meet now?
I think I was very fortunate that my journey with him is filled with a lot of very fond memories. When he passed away, it was quite shattering for all of us. But I have very consciously tried to remember the time we spent together and the experiences we shared. My last memories of him are pleasant and happy images and it is something that I've tried to kind of hold on to. I think right now, more than ever when we are surrounded by bad news and tragedy, the only way to keep your sanity is to hold on to something positive as an anchor.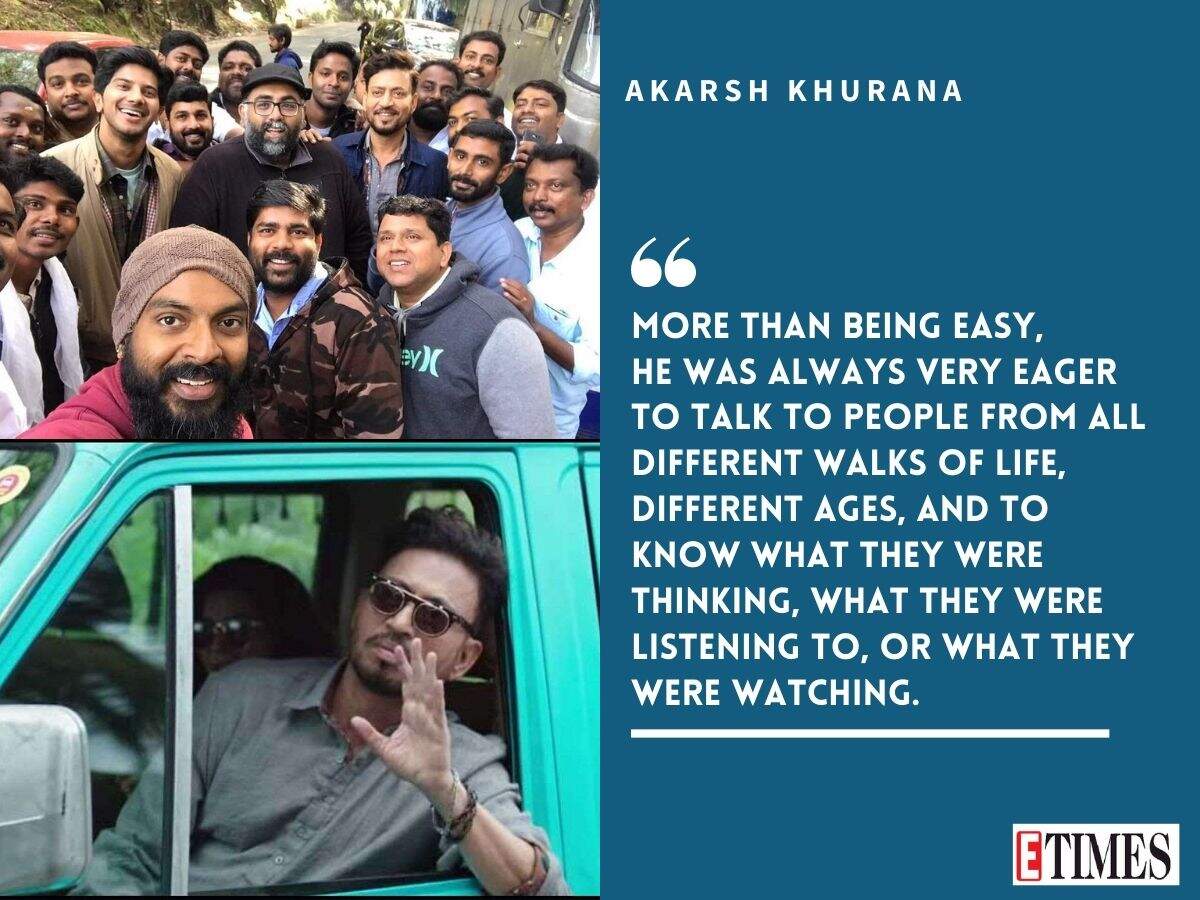 What was the atmosphere on the sets like?
We were actually quite a young group. So a lot of people were very much in awe of Irrfan. Dulquer (Salmaan) was younger and Mithila (Palkar) is a youngster. Everyone vibed and got along very well. When it came to Irrfan, in the beginning, everyone was really intimidated out of respect. But after the first two-three days, we figured that he didn't want that, because he really wanted to mingle, interact and build good camaraderie. Of course, there's respect and all of that, but he's someone who's comfortable, and capable of holding any sort of conversation under the sun. At the end of the day, he was someone who enjoyed interacting with people, with the youngsters, so much that I think that all those boundaries started disappearing
More than being easy, he was always very eager to talk to people from all different walks of life, different ages, and to know what they were thinking, what they were listening to, or what they were watching. The interesting part was, he always had this curiosity about understanding everybody's worldview. He would talk to Dulquer a lot about Malayalam cinema. He would talk to Mithila a lot about the YouTube generation. He would find somebody to talk to about their political ideologies, or filmmaking. The great thing was that he was always eager to learn your worldview. And also, he had great knowledge about everything himself. You could hold a conversation for hours with him about almost any topic. You know, it's quite rare to see that an actor is actually so open to engage on many things.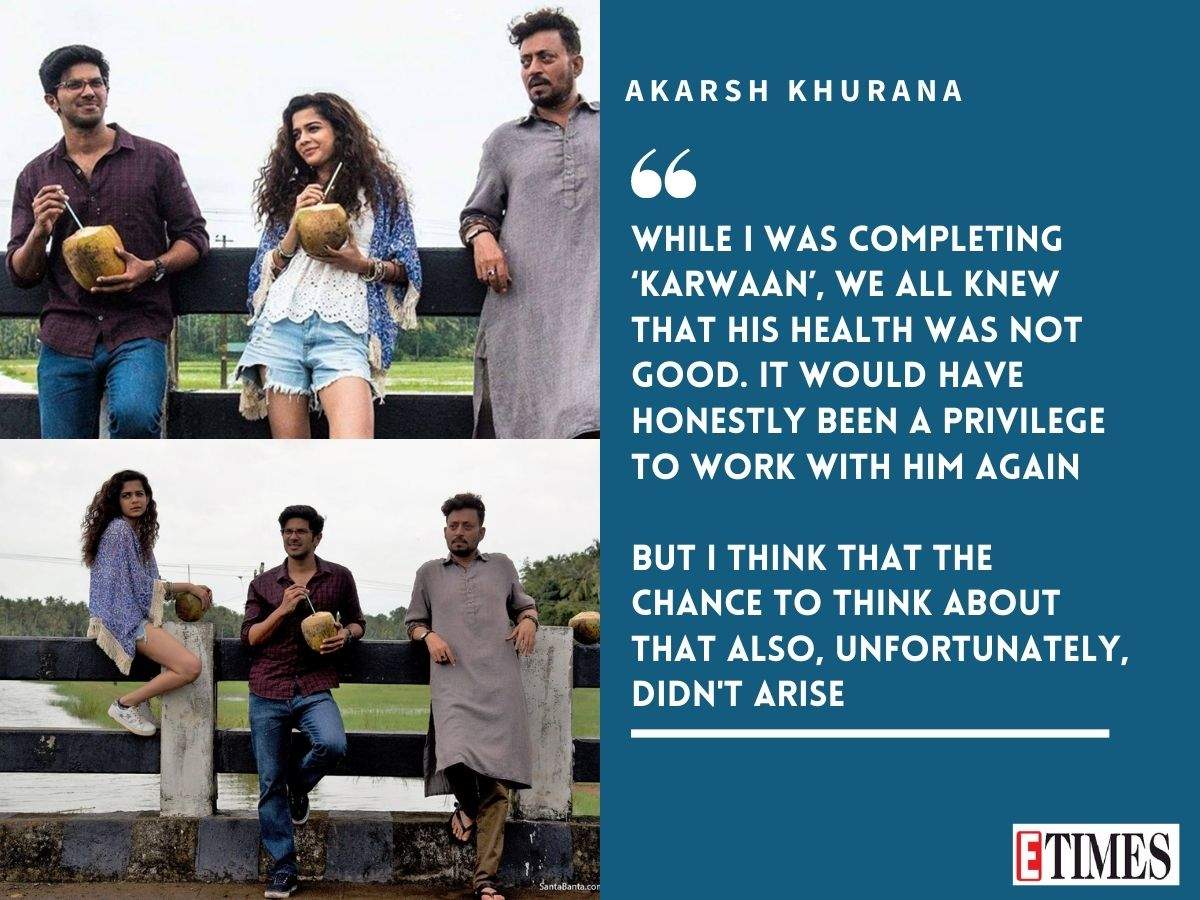 Which scene from the film is your favourite?
Oh, that's very difficult for me; it's unfair to ask. 'Karwaan' for me is a very special film. It took me about four years to get started on it and to get it made. The story of making the movie was a big struggle in itself for about four years. The fact that it was getting made, and it was being made with these people, was such a beautiful opportunity. I'm sure there were difficulties and challenges and problems on set. But somehow, because I think the unit got along well and we were travelling in such beautiful places while shooting, we all look back at it as one really happy picnic. It's become like this happy place for most of our minds. And it's almost been impossible to kind of recreate that experience with any later project. Because something just kind of felt right about it and everything kind of fell into place. It was like a road trip or a picnic in itself. We finished shooting in about 33-34 days. So it was easy.
Were you planning to work with him again?
It would have been a privilege. And at that point of time, before 'Karwaan' released, he got quite ill. I remember, our final cut was more or less ready. He had, in fact, seen the final cuts. He had spoken about it, he told me his thoughts about it. And then, soon after that, we heard that he had gotten quite ill. While I was completing 'Karwaan', we all knew that his health was not good. It would have honestly been a privilege to work with him again. But I think that the chance to think about that also, unfortunately, didn't arise.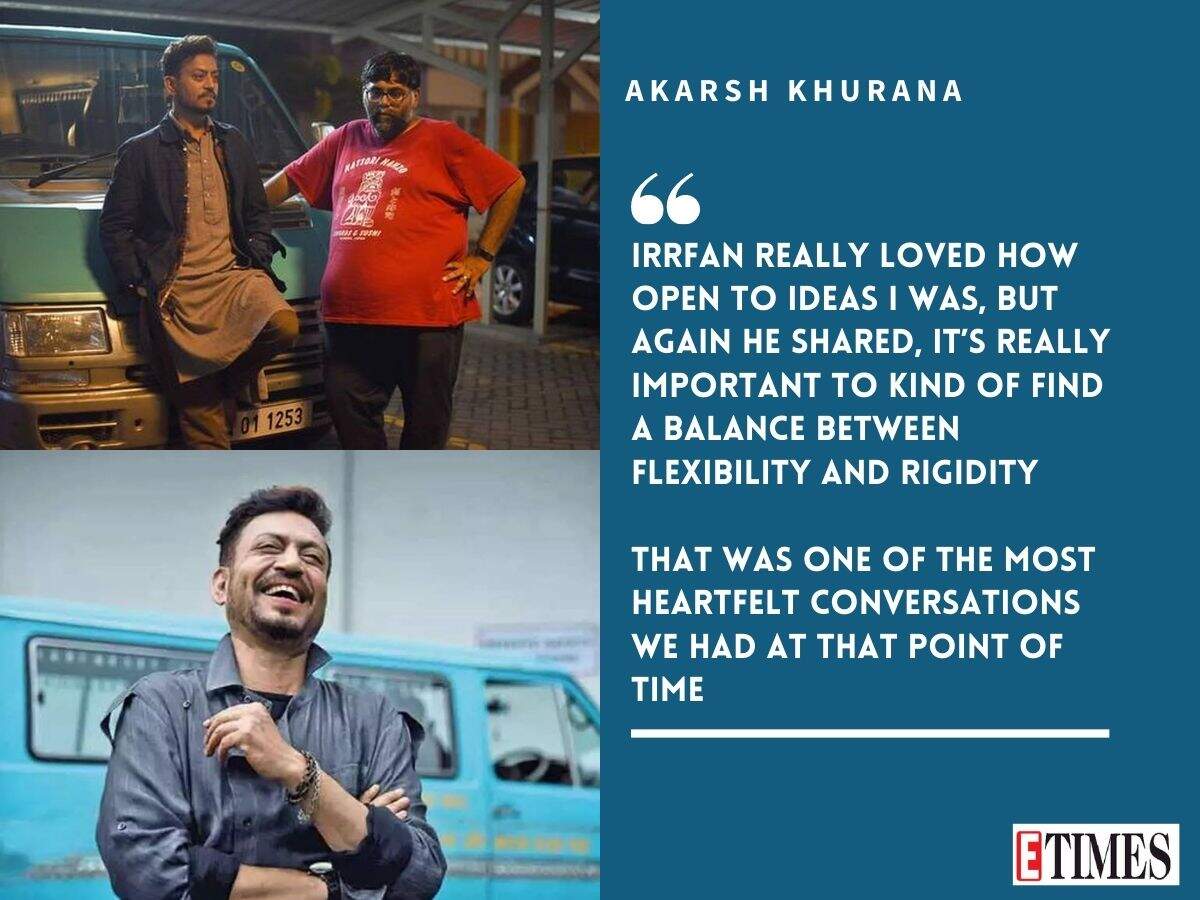 What's the one thing that he told you that will always stay with you?
We had some wonderful conversations particularly close to the time when he was wrapping up the film. He had finished shooting the film before a couple of other actors had. At one point in time, he told me that he really loved how flexible I was. I come from a theatre background, and I really enjoy working with actors, and what happens is that I'm very flexible when it comes to working with actors. Irrfan really loved how open to ideas I was, but again he shared, it's really important to kind of find a balance between flexibility and rigidity. He meant that while it is great to let actors have that freedom in what they want to do, but it's also important that, that it all kind of works within your vision. That's something that has stuck with me.