A trendsetter for his teammates,
Yashpal Sharma
stood out for his guts and humility
NEW DELHI: On Tuesday morning, India's 1983 World Cup-winning team lost its first member when
Yashpal
Sharma passed away following a cardiac arrest at 7.40 am. Only 66 years old, Yashpal had just returned from a morning walk.
When
Kirti Azad
broke the news on the WhatsApp group for all the 1983-winning team members, the group stayed silent for over two hours. "Everyone went numb. None of us could process the news. Nobody could react. The backbone of the team is gone and our team is broken," an emotional Azad told TOI.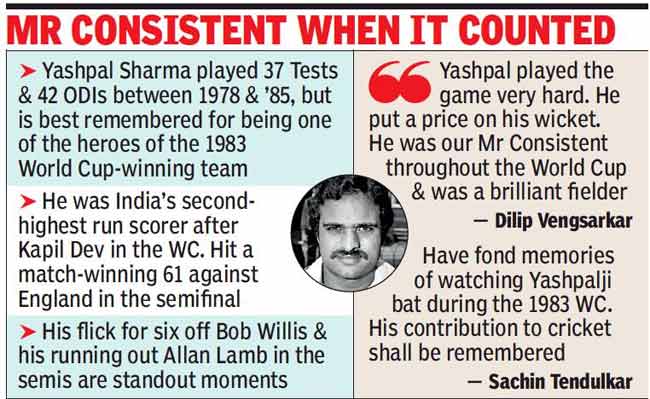 Yashpal represented India in 37 Tests and 42 ODIs before becoming one of the selectors in the committee led by his teammate K Srikkanth, which picked the team that won the World Cup in 2011. Yashpal is best remembered for his knock of 61 against England in the 1983 World Cup semifinal.
An ever-smiling man who dressed immaculately, Yashpal was also one of the finest storytellers who could seamlessly transport you to a bygone era. During his last stint as Punjab selector in 2017-18, he would watch most matches at the ground. Sitting by the boundary in the winter sun at the Ferozeshah Kotla in February 2018, he would neatly button up his blazer and be ready for any conversation if one approached him.
As the young Punjab batsmen were trying out the now-quintessential limited-overs improvised shots, one couldn't help but ask Yashpal about the one-legged flick off Bob Willis that went deep into the stands in Manchester during that semifinal.
"I never practiced that. It just happened on impulse. I covered the stumps to have better access to the ball but Willis speared the ball towards my stumps and I just reacted to it. I never played that shot again," he said, breaking into a laugh.
For Azad, though, Yashpal's magic moment happened much earlier in that match when he ran out Allan Lamb with a direct hit. "I had just got Ian Botham out. Yashpal was fielding at short fine-leg. Allan Lamb hit one towards him and set off for a single.
"He pounced on the ball and hit the stumps at the bowling end, where I was bowling from. That memory is lingering right in front of my eyes. Nowadays people talk about Ravindra Jadeja. That guy was doing it since then," Azad said. "He used to casually say he loved playing marbles, that's why he was so good at it."
Azad also reckoned that the impetus in that World Cup campaign was provided by Yashpal with his 89 against the mighty West Indies in the opening game. "He set the agenda for the tournament with that innings," he said.
Yashpal lived with a regret that he could never own the footages of his World Cup heroics. "BBC had shared some of the footages with Doordarshan. I specially looked for that 89 against West Indies. I kept requesting Doordarshan for a copy of the footages they had. They delayed it and then I got to know the footage was ruined when a fire broke out at Doordarshan's office in Delhi," Yashpal once repented.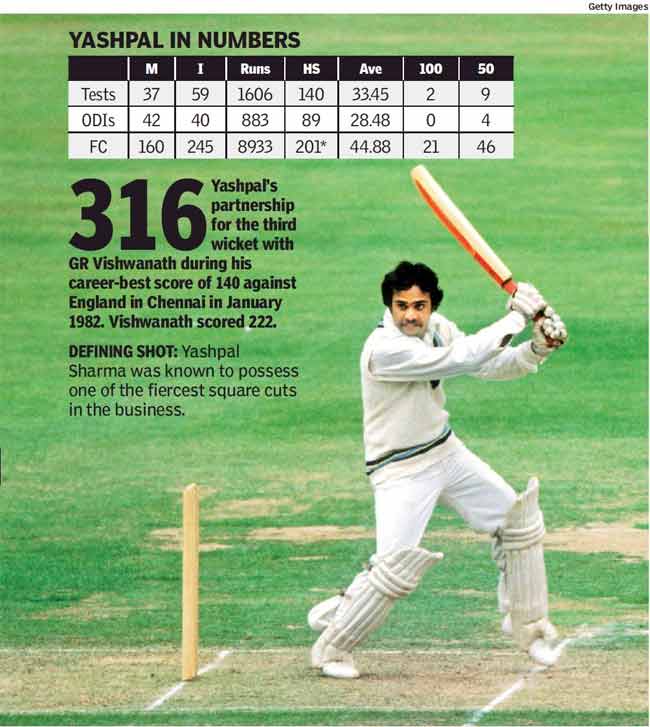 Former India captain Dilip Vengsarkar has been his friend from their university days. He was in awe of Yashpal's fitness consciousness.
On June 25, Kapil Dev had arranged a get together in Delhi to celebrate the 1983 win. "He looked the fittest of the lot. He was a fitness freak and always took care of his health. I asked him how he kept himself so fit. He said he ate only soup in the evenings and went for long walks. He was a vegetarian and teetotaler. If this can happen to him it just shows life is so unpredictable," Vengsarkar told TOI, as his voice started trembling.
"We have had a lot of partnerships for India. I remember the Test match at Kotla against Asif Iqbal's Pakistan team in 1979. We were on the verge of losing the Test on the fifth morning. After a partnership with him, we got close to winning the Test. It ended in a draw because we lost a few wickets in the end," he spoke of his fondest memory with Yashpal.
"Jovial", "positive", "modest" and "humble" was how Yashpal's teammates described him. But the standout virtue was his guts and grit.
Yashpal would also fondly reminisce about the tour of West Indies which preceded the 1983 World Cup. The second Test in Port-of-Spain was the defining match for him.
"I remember Dilip (Vengsarkar) was batting well in the second innings and he made a remark to Andy Roberts which infuriated the West Indians. Viv (Richards) would keep screaming "Kill him, maan" from the slips. They targeted our heads and bodies. Dilip was eventually dismissed for 45 off a Roberts short ball which was taken by 'keeper Dujon. All eleven escorted Dilip to the boundary line," Yashpal once said during one of his chats at the Kotla.
"Sunny (Sunil Gavaskar) had clearly stated that if you want to do well then don't be afraid of wearing the deliveries on your body. They were too quick to hook or pull or even get out of the way consistently. You could not have exposed the stumps either. I decided to follow Sunny's words blindly and took several blows and scored a 50. The match ended in a draw. It was one of the proudest moments for me."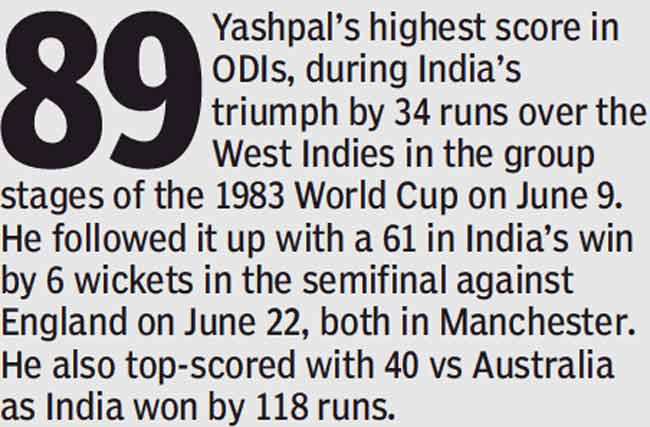 "He played the game very hard. He put a price on his wicket and could change gears as per the situation. He was our 'Mr Consistent' throughout the World Cup and was a brilliant fielder," Vengsarkar said.
He showed guts both on and off the pitch. He and the late Chetan Chauhan once came to the rescue of three Sikh players in the North Zone team during a train journey days after Indira Gandhi was assassinated in 1984. After asking Navjot Sidhu, Yograj Singh and Rajinder Ghai to hide in the compartment, Yashpal and Chauhan had confronted an agitated mob and got them to vacate the compartment.
Yashpal played in an era when opportunities to stake a claim for a place in the Indian team were far and few between. "If you were out of favour, you had very few tournaments to make a comeback," he would say. He was proud of the fact that he had taken his job at State Bank Of India seriously and had converted it into one of the most professional cricket teams in corporate cricket.
Yashpal leaves behind indelible memories for his mates. He may not have got the footages of his heroics but he will forever live on in the hearts of Indian cricket fans.
Saved 3 Sikh players during '84 riots
Yashpal Sharma stood out for his guts and grit, on and off the pitch. Along with Chetan Chauhan, Sharma had come to the rescue of three Sikh players of the North Zone team during a nerve-racking train journey in the middle of the 1984 riots. After asking Navjot Sidhu, Yograj Singh and Rajinder Ghai to hide in the compartment, a daring Sharma and Chauhan confronted a mob and made sure they didn't harm the three.